What are the Top 10 football games for android in 2017?
A hunt to find the Top 10 football games for android in 2017
Now, if you're anything like me you live and breathe football. No matter what you do, Football tends to be involved. When it comes to mobile gaming, there's a lot of bad games you have to go through to find the good ones. As a solution I thought that I'd make it easy for you. Find out what I believe to be the top 10 Football Games for android in 2017. Most of these are free, however some will come at a cost.
---
As a child there was nothing better than going to your local paper shop or petrol station to buy packs of Trading Cards. Topps Kick is made by Topps, the people that own Match Attax. It's not like any other Football game I have played before, it's truly addicting.
At this moment in time Topps Kick includes 4 leagues. These are the English Premier League, Bundesliga, MLS and SPFL. That's not all though, Kick also has UEFA Champions League too.
Because of this, Topps will release up to 5 different card sets daily. It's fair to say, Topps are making a lot of money from this app even though they give you 10,000 coins a day. Tapjoy offers are also available, they're a great way to earn free coins.
Topps Kick isn't just for collecting, no. Build up your collection and compete in contests every game week to win awards. Contest points are earned by chasing real-time events such as fouls, saves, assists & goals. Earn yourself a spot in the top 1000 and get yourself a "Gamechanger" card.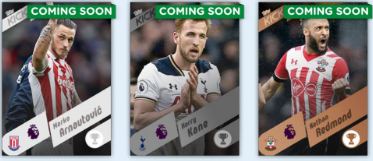 Gamechanger cards are given to the Top 5 Highest point scoring cards for that game week.
| | | | | |
| --- | --- | --- | --- | --- |
| White | Iron | Bronze | Silver | Gold |
| Top 1000 | Top 250 | Top 100 | Top 50 | Top 20 |
The higher you place, the higher value card you will receive. It is possible to get a high finish without investing real life money, it just takes a lot of time and effort.
I strongly recommend this app to all fans. It's my favourite app on this list of football games for android.
Topps Kick is always online, an internet connection or mobile data is required to play.
---
Score! is a very popular app, I wouldn't be surprised if you have heard about it or are playing it already. It's the #1 sports game in Italy and Top 10 in 50+ other countries. I'll warn you in advance! The swipe mechanics are fun but can be frustrating.
Score! World Goals: 
The objective is to swipe your way through over 1,000 iconic goals from all around the globe. Recreate goals from top domestic leagues and cup competitions, both club and country. While there's not a story line to this game, it's very fun recreating history at your finger tips. Especially if you were watching the matches at the time.
There's an unbelievable amount of content to work through which is regularly updated, so you definitely wont get bored. You'll also find a "Goal Of The Day" competition giving you a reason to login every single day.
Whatever your goal is, even if it's just to pass some time, Score! World Goals will do it. Be careful though, I have very easily lost track of time while playing this game.
This app isn't always online. You can play anywhere, without a connection.
Score! Hero
Score! Hero is higher rated than World Goals when it comes to Google Playstore reviews. It also boasts 5x the number of downloads that World Goals has. Perhaps it's the story line?
Work your way up, earning yourself a contract from a trial day all the way up to legend status. Obviously it's not one small step. Once you earn yourself a contract at a trial day you will find yourself battling through reserve matches all just to earn a spot in the starting 11.
It's fair to say, since you're not actually recreating goals the game offers you more freedom. Instead of a set pass, you're given a zone to pass into and you can pick a pass, cross or shot within that zone.
Score! Hero is a great game. Even though this time around micro-transactions are a lot more in your face.
---
Built around FIFA's Ultimate Team, EA are looking to mobile for their next success. A feature rich game with a real time economy, EA have done the mobile platform justice.
Pack, Trade or Play your way to millions. The aim of FIFA Mobile is to simply build the best team possible and climb the divisions in Attack Mode. As for micro-transactions, FIFA points are very much a thing although aren't necessary to progress.
One thing which is a little unusual for a FIFA game is the gameplay. They've removed the classic 90 minute game from Seasons (Attack Mode) and have replaced it with patterns of play. Once you lose the ball, your attack is up.
You can also complete daily drills in the "live event" mode for various different rewards. These are drills that players do on a day to day basis on the training ground. Practice shooting, crossing, set pieces and get rewarded for it!
Most of the live event rewards can be used in the "plans" feature. This is a very in-depth trade up feature where you can get trade-in unwanted cards and rewards. Such as this 2014 "Aguerooooo!"
Don't get me wrong, these are specifically made to take coins out of the game but you have to admit they're cool. I'm not even a City fan and this Aguero has me going crazy.
---
There's both a free and paid version of this game. The only difference being the free version has a 30 season restriction and a couple of non-essential features disabled. What's really good about this game is that you can build a club without the game trying to sell you micro-transactions to speed up your progress.
You start off in the 7th tier of English football with only £50,000 to your name. Starting with hiring the Manager, you will have full control over your created club. From there you can upgrade facilities, increase profits from food vendors and merchandise stores as well as increasing your stadium capacity.
Whatever you do, keep the manager happy by signing his suggested players and help him, help your club progress to the top level of English football. It's important to progress as a club, otherwise you'll fall into administration and cease to exist.
If you're looking for an addictive game that isn't destroyed by micro-transactions Football Chairman is definitely worth a shot. Start with the free version and you enjoy it, buy the full version for £3.99
---
At £8.99, Football Manager Mobile may not be for you. Football Manager Mobile 17 is made by sports interactive, published by Sega. While it's pricey, it's definitely worth it.
Football Manager Mobile is by far the most in-depth Mobile management game, in-fact it's probably the best Management game outside of the PC version of Football Manager. Perhaps that's the FM fanboy inside of me.
Either way, if you read the reviews on Play Store almost everyone is in agreement.
While it is simpler than the PC version. It's not for people that want to pick up a game and earn instant success, no matter which team you choose you will find it challenging to an extent. Even when building a tactic there is many different roles for each position, so you'll have to learn all about that and other aspects of tactic creation.
Scouts will uncover attributes of players you scout. On top of that, Scout reports are very informative while being very easy to read.
Not to mention, the Match Engine allows you to watch the game in 2D classic. Giving you the best view to analyse your teams shape and where your attacks are breaking down. As well as allowing you to spot your opponents weaknesses. Pay attention and change your tactics in real-time to get the best success.
If I didn't have access to the PC version of Football Manager 17, I'd definitely be buying this game. Taking a long journey or just looking to pass time, this game will fill time like no other. Once you start, you'll never stop.
---
This game is very similar to the "Soccer Heads" flash game on Mousebreaker. While there is many different versions of this game, I personally went for "Puppet Football League Spain."
It's somewhat goofy, but it's a nice game to pass time. You can even play Head 2 Head mode on one device, although unless your on a tablet, it may not be the most positive experience. While none of the clubs is licensed, the badges and names are very suggestive. Player faces are pretty easy to recognise too.
Try it out, it's free and it's good enough to be among the Top 10 football games for android.
---
Final Kick is pretty interesting, it's a game where you take set pieces against other players online. It also includes a coin system which is designed in an attempt to get you to buy their micro-transactions and watch adverts.
The gameplay itself is fun, there's many different run ups and styles you can take your penalties and free kicks with. Want to fall over while taking your run up so that the keeper dives early? You can actually do this. Showboat with a Rabona? No problem. There's endless options, making the game a little bit more than taking set pieces over and over again.
I'd be lying if I said the animations didn't make for some questionable moments, you will have to adjust to the game. Timing your saves as a goalkeeper is pretty hard but will come with time.
Another card app, however this is more about competing. Open packs and go head to head against other players online in a Top Trumps style game.
You start out with a deck of cards, these tend to be pretty average but are good enough to compete. If you happen to collect these cards in real life, you will be able to find redeemable codes on the back. Because of this, you can come up against some top teams.
Choose to compete in 1v1's or Tournaments to earn coins. Tournaments run every 3 hours and anyone can join. Make it further into the tournament to earn more coins.
Should you decide to download this game, there's a "How to play" option and you can also train against the AI. Progression is slow but it's a very fun and competitive game.
---
Compete against your friends during a live match. Pick 2 players from a game that's playing and earn points in real time.
Players earn points based on real time actions (similar to Topps Kick contests) based on successful passes, tackles, interceptions and so on.
Think your player is going to have a big impact within the next 10 minutes? Use a 10 minute double point boost to score 2x points. Alternatively, freeze an opponents player for 10 minutes so that they stop scoring!
While you can join public matches, I've found that this game is best played with friends or a community that you know well, it's always fun to have the bragging rights.
Watching as a neutral? It's always fun for football games to mean a little more. With UFL, you don't need to gamble to make Football matches more enjoyable.
If you are enjoying yourself playing any of these football games for android, Share on social media! Lets your friends join you!