There's so many good car games on PlayStation 4, but which are the best?
You really do have a lot of options when choosing a car game. It doesn't help that there's so many different disciplines within racing. In 2017, car games are not just Racing games. We've seen the release of Rocket League and Wreckfest is due to release later this year as well. A handful of these games have already feature in our list of "must buy ps4 sports games". In no particular order, lets discuss the best Car Games for PS4 in 2017.
Dirt Rally:
---
Game: Dirt Rally
Publisher: Codemasters
Click here to buy from Amazon – Physical Copy ($34.99)
As a rally fan, I cannot hold back on praise for this game. It really is a massive improvement on Dirt 3. If you're looking for a rally game that really gets your heart pumping Dirt Rally is definitely for you.
To some people, this game will get boring quick. Not because there's a lack of features but because they're not willing to adjust to a proper rally simulation. Gone are the days of putting your foot down for the whole stage.
Dirt Rally requires great skill, whether it's perfecting the Scandinavian flick, controlling the throttle or mastering the many different weather conditions.
That's not all, Dirt Rally boasts over 40 of the most iconic and relevant cars in rallying history and also features 6 crazy rallies with over 70 Stages. Americans, it even includes Pikes Peak!
Buy Dirt Rally now and feel the rush as you fly through the air, lose control on the ice or climb Pikes Peak. In my personal opinion, this is one of the best car games for PS4, if not the best.
Rocket League:
---
Game: Rocket League
Publisher: Pysonix
Buy from Amazon – Physical Copy ($22.99) / Digital Code $19.99 (US Only)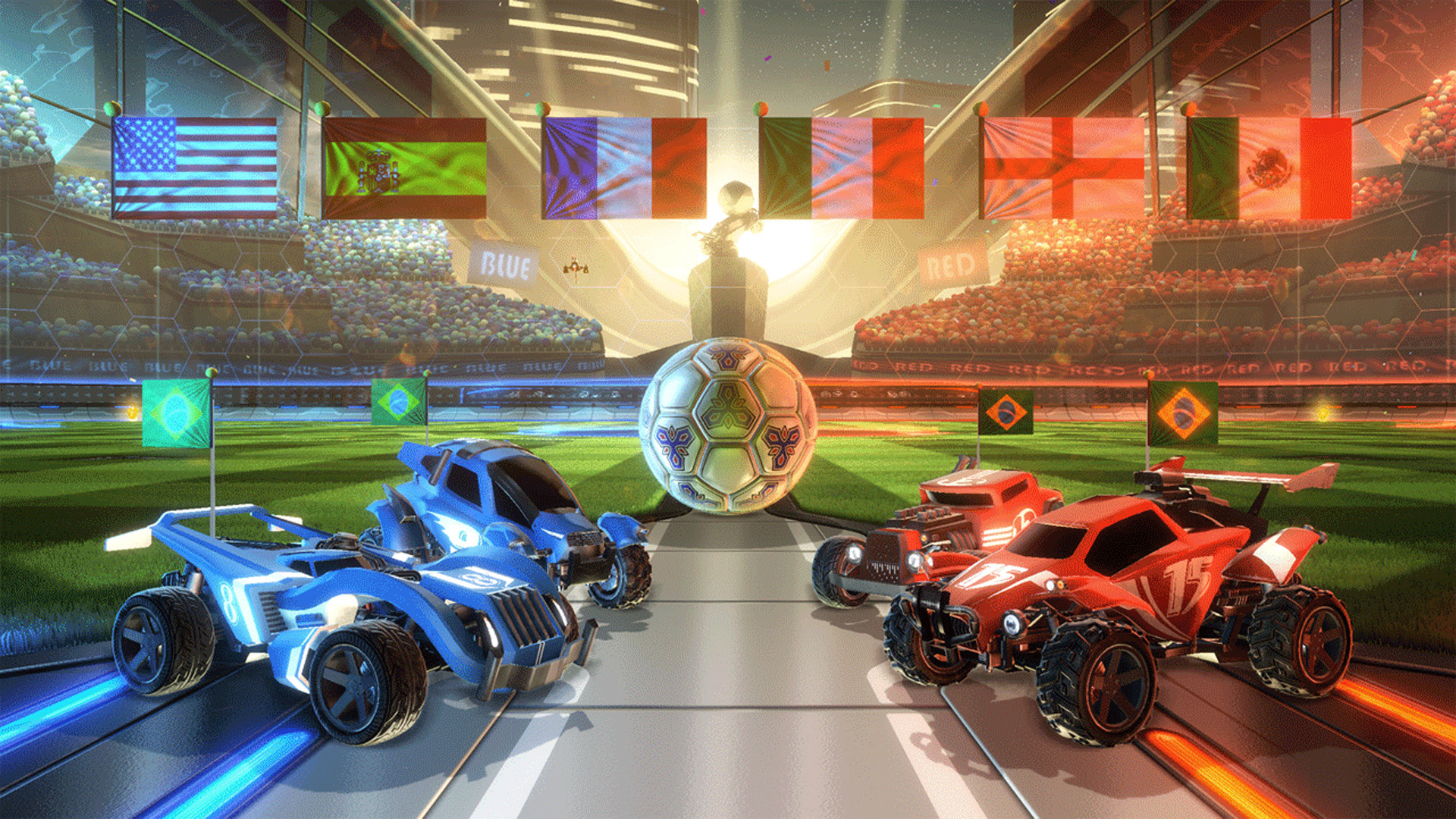 Who'da thunk?! An insanely popular car game where the car isn't the focus!
Rocket League is pretty much Football with Cars, there's no other way to explain it. Granted there's a little more too it than that.
You can pick up boosts and jump/fly with your car. It's definitely an interesting take on what would have just been Car Football.
Big fan of customisation? There's a drop system which offers many different items that can lead to endless customisation. This is obviously a popular feature as many different YouTubers make customisation videos.
Want to get a little bit more serious? Rocket League offers an in-depth ranked ladder system and there's many different 3rd tournaments you're able to compete in.
I will warn you though. Driving around and hitting a ball? it's not as easy as it looks!
Project Cars
---
Game: Project Cars
Publisher: Slightly Mad Studios/Bandai Namco
Click here to buy from Amazon – Physical Copy ($20)
Perhaps the best track racing simulator available currently on Playstation 4. Granted, this will most likely change when GT Sport comes out.
Project Cars is made for racers. Start your racing career with a Go Kart and work your way to the top through many different vehicle classes. Some would say it's the ultimate driver journey.
It's not just the progression system that makes the game feel authentic. The cars look outstanding and so do the tracks, in fact some of them are laser-scanned (Brands Hatch.)
Think you're one of the best racing drivers ever to be seen? Project Cars is now an esport. Join third party racing leagues and prove just how good you are.
Formula 1 2016
---
Game: Formula 1 2016
Publisher: Codemasters
Click here to buy from Amazon – Physical Copy ($39.99)

While Formula 1 may cater towards fans of the franchise more than anything else, it's still a great experience whether you're a fan of the sport or not.
As you'd expect F1 2016 comes with all 21 authentic tracks from the 2016 Forumula 1 calendar season, 22 real drivers and 11 teams. These include the brand new circuit in Azerbaijan (Baku) as well as Haas, the new racing team.
F1 2016 brings the safety car to your screen. Previously it was just a yellow flag displayed on the HUD. Now, the safety car actually comes out on to the track!
Codemasters have always offered a great career experience, but it's just got even better. Now you can work with your agent to progress your career and work with your teams engineers to develop your car, helping you to control your destiny.
Online play is excellent too! You can race up to 22 players in the same lobby which makes for exciting races between friends or like Project Cars, you can join third party racing leagues and prove you're one of the best in the world.
Flatout 4: Total Insanity
Game: Flatout 4
Publisher: Bigben Interactive
Buy from Amazon – Physical Copy ($48.99)
---
While it may not be worth it's current price tag, you can almost guarantee Flatout 4: Total Insanity will go on sale at some point. Maybe even sometime this year.
It's not your run of the mill racing game, however it does offer racing. In fact, it offers 20 different races and 27 different vehicles.
More importantly it offers hours and hours of silly fun. Whether it's demolition derby, flinging a ragdoll from your car through fire hoops or knocking over pins you'll find yourself laughing.
Go online and share the fun with friends! Every mode is playable online and allows up to 8 players. Why not substitute frat style party beer pong for Car Beer Pong? It's just as fun and comes with 0 risk of a hangover!
I'm not sure why but on Steam this game is only $39.99 whereas the cheapest you can buy it for PS4 is $48.99. I'd definitely wait this one out, it's one of the best car games for PS4 in regards to childish fun but should be reduced sooner rather than later.
Conclusion:
There's a lot more to come this year, with titles such as Gran Turismo Sport, Dirt 4 & Project Cars 2 all due to be released you can expect this list to be added to.